With Valentine's Day right around the corner we thought we would create a Valentine's Cocktail for you to share with your loved one. This drink uses strawberry infused vodka which needs to be started a few days before the 14th and Godiva White Chocolate Liqueur. This drink is well worth the effort (trust me).
How to make Strawberry Infused Vodka
Muddle a handful of strawberries in a pint sized mason jar.
Fill the mason jar with vodka and place in the fridge for 2 days.
When it's time to make the drink, strain the strawberry infused vodka.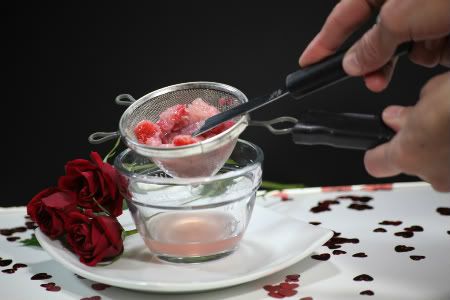 Strawberry White Chocolate Martini
Ingredients
4 ounces Godiva White Chocolate Liqueur
3 ounces strawberry infused vodka
Preparation
Combine strawberry infused vodka and Godiva white chocolate liqueur into a cocktail shaker.
Add crushed ice and shake.
Pour into martini glasses and garnish with sliced strawberries.
Makes 2 martinis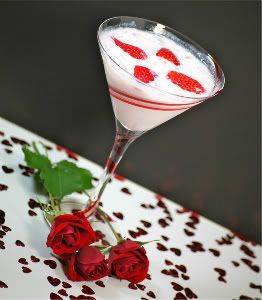 Cheers!
You might also like the Strawberry Champagne Cocktail for a Valentine's Cocktail.

The following two tabs change content below.
Jessica Torres is the chief cocktail creator here at One Martini. Outside of the internet, she works at DEATH & TAXES (a bar) and midtown eats (a restaurant) in Reno, Nevada. When not working, Jessica can be found working out, spending time with her family or attempting to nap.
Subscribe to our newsletter
to get all of the latest cocktail creations delivered directly to your inbox.
Latest posts by Jessica Torres (see all)