If jello shots aren't your thing or you want to have a variety of choices for people to drink on New Year's Eve then a Champagne martini might be just what you are looking for.
Sparkling Orange Martini
Pour 1 ounce Cointreau liqueur into a martini glass.
Fill the rest of glass with Champagne (Sparkling Wine).
Garnish with an orange slice.
Makes 1 martini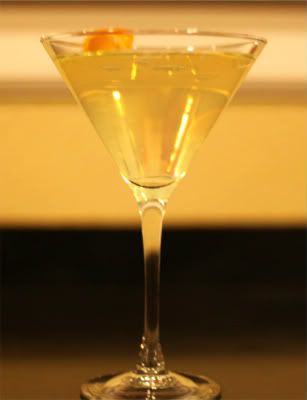 If you need some help on deciding what type of Champagne (or sparkling Wine) to buy check this list of Top 10 Sparklers with prices ranging from around $8.00 to $45.00 from Rachel Voorhees.
Be sure to take pictures of this drink after making it and share them on our Facebook Fan Page. 
Cheers! 

The following two tabs change content below.
Jessica Torres is the chief cocktail creator here at One Martini. Outside of the internet, she works at DEATH & TAXES (a bar) and midtown eats (a restaurant) in Reno, Nevada. When not working, Jessica can be found working out, spending time with her family or attempting to nap.
Subscribe to our newsletter
to get all of the latest cocktail creations delivered directly to your inbox.
Latest posts by Jessica Torres (see all)